All the various charms of
Umeda as you want.
A 10-minute walk from Osaka Station, a designer hotel
"UMEDAHOLIC HOTEL to stay as you like"
The hotel is located in the center of Umeda. Access to the hotel is a 10-minute walk from
the east exit of Osaka Station.
4 minutes walk from M14 exit of Umeda subway station
A healing space where you can relax and forget about the hustle and bustle.

After enjoying the vibrant city, At Umeda Holic Hotel
Enjoy your own hotel stay.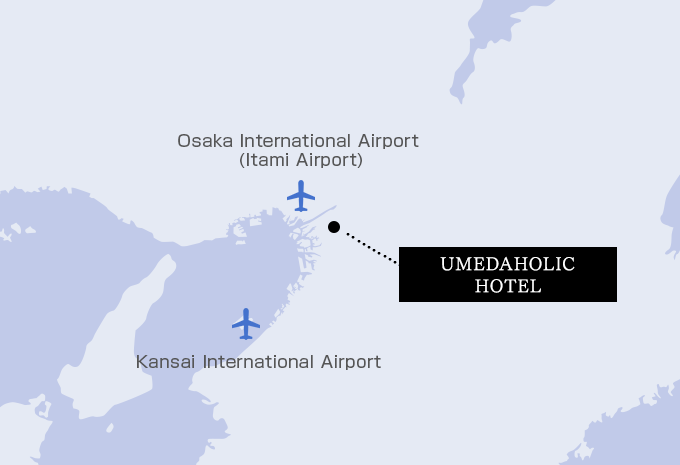 UMEDAHOLIC HOTEL
INFORMATION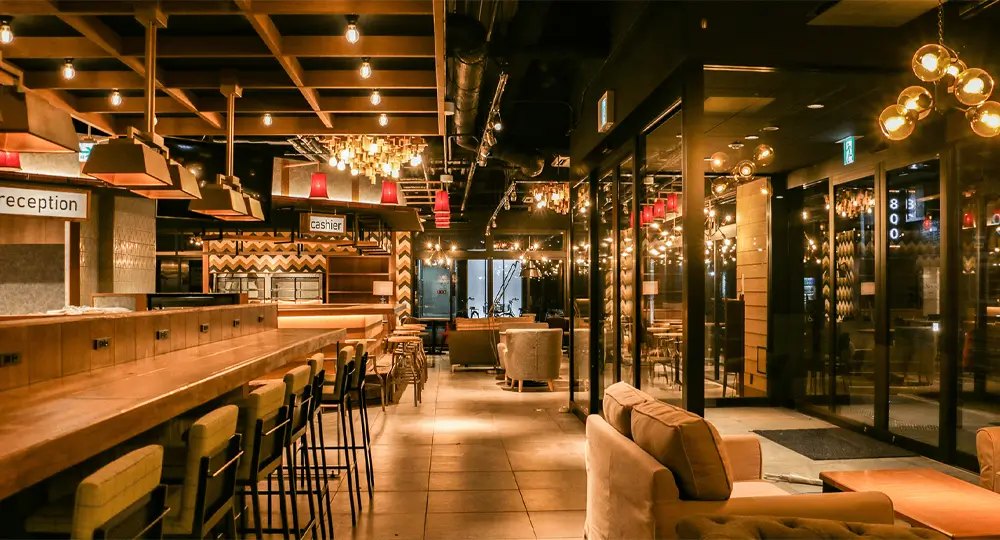 UMEDAHOLIC HOTEL
5-2 Togano-cho, Kita-ku, Osaka-city, Osaka, 530-0056 JAPAN
TEL.
+81-6-4792-8380
Check-in
Later than 3:00 p.m.
Check-out
Till 11:00 a.m.
Number of
guest rooms
117 rooms
Dining
Breakfast and Dinner
Credit card

VISA / JCB / MASTER / AMEX / DINERS / GINREN
ROOMS
There are three types of guest rooms. The rooms are compact yet functional.
The room is a calm private space that can be widely used for business and sightseeing.

Common equipment

TV / Free high-speed internet (Wi-Fi) / Refrigerator / Electric kettle / Telephone / Safe / Dryer / Under-bed storage space / Bedside outlet / Hotel information app "Hit's" (YouTube unlimited viewing) / Toilet with cleaning function / Independent air conditioner
Amenities

Bath towel / Face towel / Shampoo / Conditioner / Body soap / Hand soap / Hair brush / Razor / Shaving cream / Toothbrush and Tooth powder / Nightwear / Slippers / Tea / Tea / Tea / Coffee / Mineral water
Free offer

*Available at the front desk.

Cotton / hair tie / cotton swab / shoe shine, etc.
Rental items

*Limited quantity

Iron / Air purifier / Humidifier / Charger /
Extension cord / Iron / Ironing board / Ice pail /
Nail clippers / Blanket / Additional pillows /
Various games (playing cards, etc.)
RESTAURANT
We have a rich menu such as fluffy omelet rice, hamburgers, and soba noodles.
At dinner and BAR time, enjoy delicious alcohol and food while relaxing on the sofa.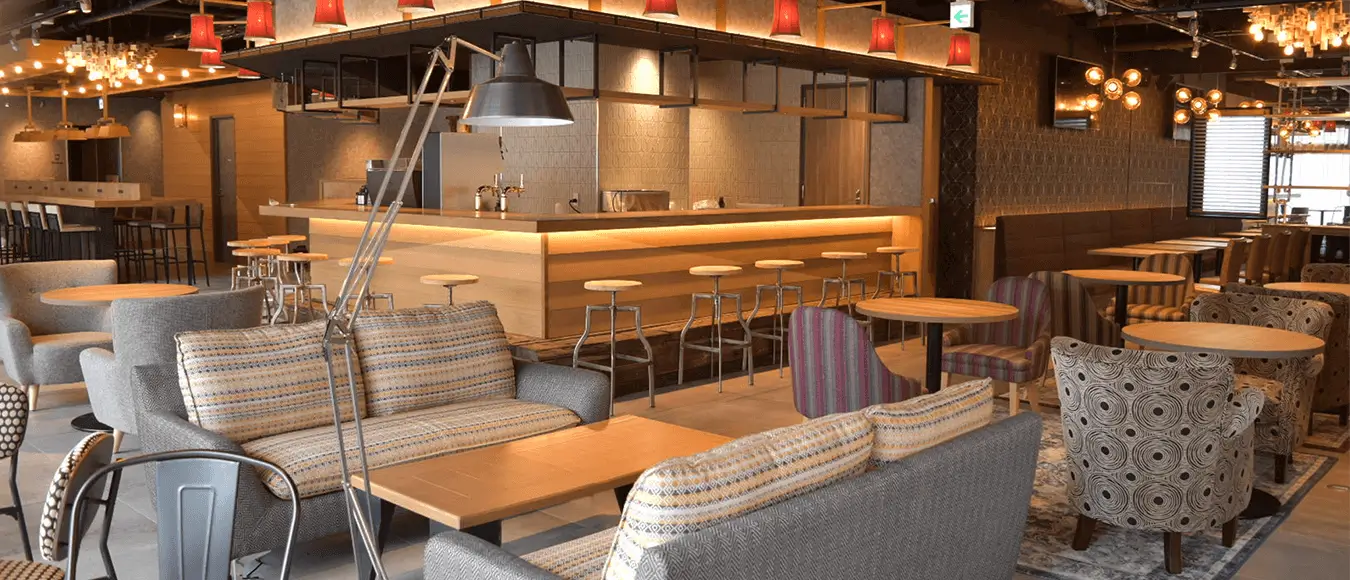 Café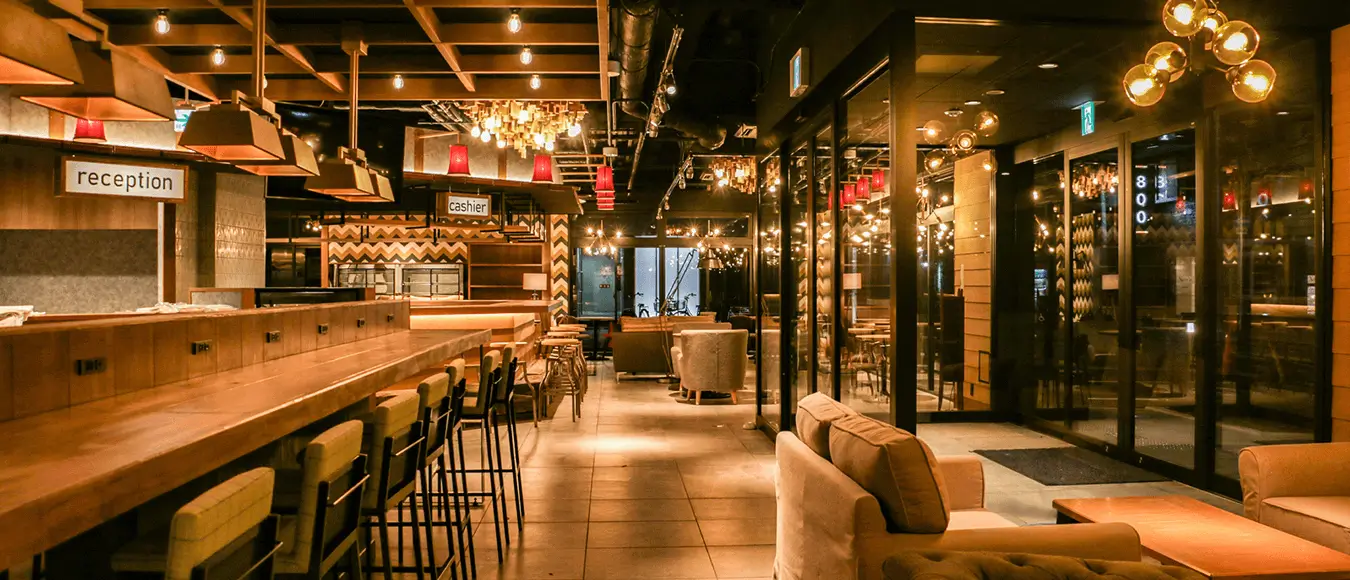 BAR
Lunch menu
Lunch menu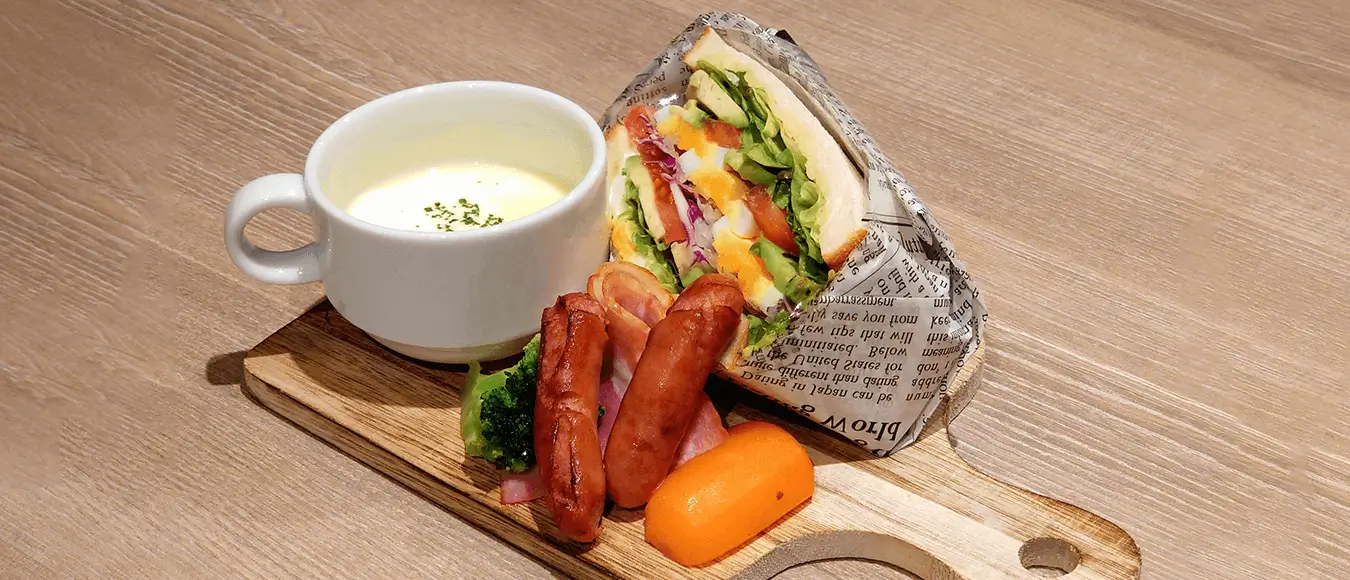 Breakfast Western menu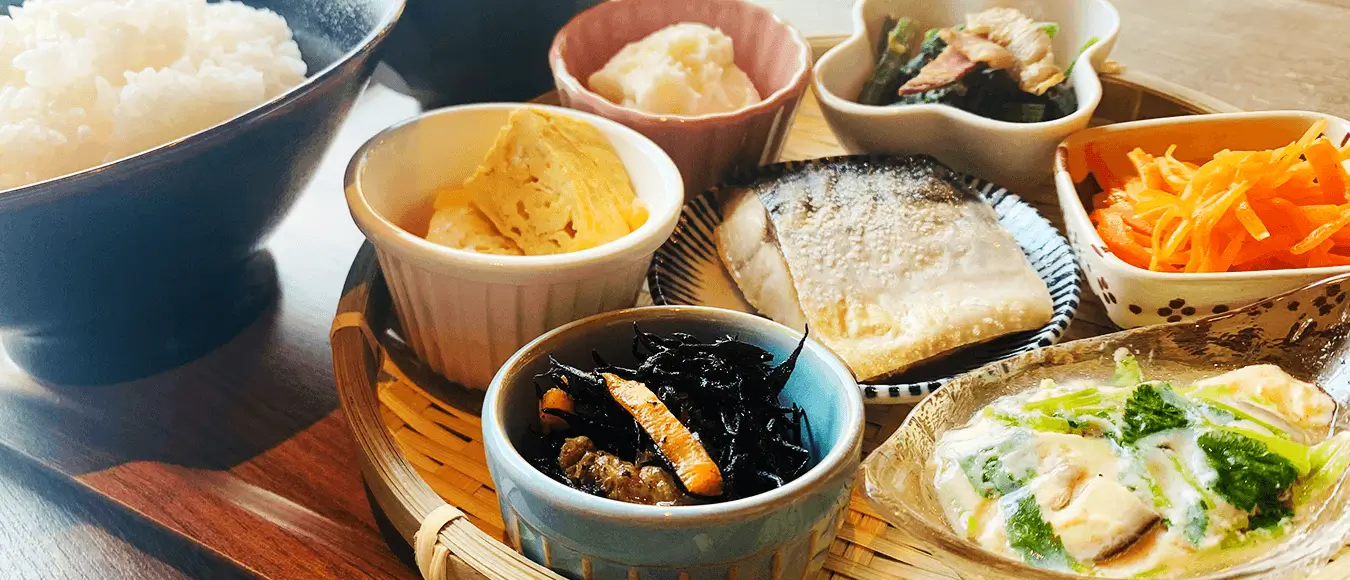 Breakfast Japanese food
Dinner menu
Dinner menu
Bar Wine menu
1F
UMEDAHOLIC HOTEL
café & bar
In the game corner on the floor, we have more than 30 types of easy-to-play board games.
You can use it as a free space even after business hours, so please have a good time with friends and couples.
*Please note that game boards cannot be brought into the room.
Floor

1F

Hours

Breakfast: 7:00 a.m.-10:00 a.m.
(L.O.9:30 a.m.)
Lunch: 11:30 a.m.-3:00 p.m.
(L.O.2:30 p.m.)
Cafe: 10:30 a.m.-10:00 p.m.
(L.O.9:30 p.m.)

*Last order for sweets is 4:30 p.m.
*After 4:30 p.m. only drinks will be served.
*Breakfast is available for 990 yen (tax included/per person) for non-guests.
FACILITIES
1F

Lounge

The lounge can be used as a free space for waiting time until check-in, work meetings, business negotiations, etc.

1F

Automatic Check-in Machine

It is an automatic check-in machine that supports credit card payment and advance payment. From reservation search / procedures to room key issuance, non-contact and smart check-in is possible even during times of congestion.

1F

Smoking Room

We have a smoking room in the hotel.

1F

Coin-operated Laundry

A coin launderette is set up in the hotel.
FAQ
We'll do our best to assist you whatever your request may be.
Your Stay

Reservations

Payment

Other
Your Stay
Can I check in early?

We don't usually offer early check in, however, it may be possible depending on availabilities. Please contact the hotel for details.
Can I Check In after midnight?

Yes, you can check in after midnight. Please inform us of your desired check in time prior to your arrival.
Can I do late check out?

Late check out is available until 2:00 p.m., 1100yen per hour (It may be refused depending on your reservation and room availability.)
Does the hotel have a curfew?

The hotel does not have a curfew. Our front desk is available 24 hours.
Do you have non-smoking rooms?

All rooms in the hotel are non-smoking rooms. If you would like to smoke, there is a smoking room on the 1F.
Do you allow smoking on property? In the rooms?

All rooms of our hotel are non-smoking rooms. If you want to smoke, please come to the smoking room on 1F.
Do you have connecting rooms?

Unfortunately connecting rooms aren't available.
Do you provide a baby crib (bed)?

Unfortunately, there are no cribs available.
Can I keep the same room for a few days?

Please inform us in advance, and we will make special arrangements. It may not be available depending on availabilities.
Can minors stay in a room without adults present?

Yes, minors may stay in a room without adults present. However, you will be required to submit a parent consent form. Please contact the hotel for instructions on how to do so.
Reservations
How far in advance do I need to make a reservation?

We have no rules about advance reservations. However, we recommend making reservations in advance as we offer Advance Purchase Rate.
Does the hotel have a waiting list?

We do not offer waiting lists. Please contact us directly by phone or email to get the latest updates on room availability.
Is there a cancellation fee?

You will be charged 20% of your reservation price if you cancel the day before, 80% will be charged the day of your reservation, and 100% will be charged if you do not show up at the hotel.
How do I cancel a reservation?

Please click here for confirmation, change and cancellation of reservation details.
Payment
Will children be charged?

Children under the age of 6 who do not require an additional bed will not be charged. Children over the age of 6 will be charged as an adult.
Does my reservation price include consumption tax and service charges?

Yes, consumption tax and services charges are included in your total reservation price.
When will payment be completed?

Payment for your stay will be completed when you check in. If someone other than the guest who is checking in is responsible for the payment, they will need to complete the payment in full prior to the guest's check in. Please contact the hotel in advance if you have any further questions.
What credit cards do you accept?

We accept VISA / JCB / MASTER / AMEX / DINERS / GINREN. If you are unsure if you are able to use your card, please contact the hotel in advance for clarification.
Other
Is there the Money Exchange?

Unfortunately, there are no money exchange available.
Does the hotel offer wheelchair-accessible rooms?

Yes, the hotel is wheelchair friendly. We have a universal double room which is completely wheelchair accessible.
Does the hotel have luggage storage?

Yes, we will keep your luggage at the front desk prior to your check in and after you check out. Please contact the front desk if you would like us to hold onto your luggage.
Can I send packages to myself at the hotel?

Yes, we can receive packages sent from within Japan and overseas at the hotel. However, we do not accept packages which require payment on delivery. Please make sure all packages you send to the hotel are pre-paid. On the shipping label, please write the reservation name of the guest at the hotel, reservation dates, reservation confirmation number and address the package to "reception". *We do not handle chilled, frozen, or hazardous products.
Can I send packages to other locations in Japan from the hotel?

Yes, we can help you send packages to other locations in Japan. Please contact the front desk for assistance. *We do not handle chilled, frozen, or hazardous products.
Can I send packages overseas from the hotel?

Unfortunately we cannot help with international shipping. The nearest post office from our hotel is Semba Post Office, which is open during weekdays from 9:00 a.m. to 5:00 p.m.
Is there breakfast at the hotel?

Yes, we have breakfast from 7:00 a.m. to 10:00 a.m. (last order is at 9:30 a.m.) at the hotel. To confirm whether your reservation includes breakfast, please ask the front desk. You are able to add breakfast to any reservation for 990 yen (tax included) per person.
What are the parking options at the Hotel?

The parking lot is in front of the hotel. You can use the parking lot for 2000yen per night.However, this parking lot cannot be reserved.
Are English TV channels available to watch in the room?

Yes, we provide an apple TV in each room. ABC News is available through the Apple TV.
Is there a "Lost and Found" at UMEDAHOLIC HOTEL?

Lost items may be discarded after then if there is no inquiries within 1month. Valuables such as cash ,valuable securities and precious metals are handled according to the law and regulations. Please note that if food and beverage are left behind after check out, they may be disposed on the day.
ACCESS
Coming from the airport